We may earn commission from links on this page, but we only recommend products we love. Promise.
17 Rope Bondage Sex Positions That'll Have You Begging for More
In the wise words of Cardi B and Megan Thee Stallion's WAP, "Tie me up like I'm surprised."
Bondage—the B in BDSM—is a super common fantasy. If you're a dominant partner, tying up your submissive and being in control is super sexy, and if you're the sub, relinquishing that control by letting your partner tie you up can legitimately lead to the best sex, like, ever. As with all types of sex or sex acts, consent, safety, and aftercare are crucial. Once you have your routines in place, these rope bondage sex positions will bring you to the edge.
"When it's done safely, rope bondage can be incredibly pleasurable and rewarding for both parties. It allows you to experiment with BDSM, power play, and explore new areas of pleasure that you may never have even considered," says Ruby Payne, dominatrix and sex expert at adult toy retailer UberKinky. Emphasis on the word safe. Here's what to keep in mind before you go buy a bunch of rope.
Talk about what you want (and be honest!)
Your partner won't know what you're comfortable and uncomfortable with if you don't tell them, and when someone's getting tied up, clarity is essential. "Having a conversation outside of the bedroom is really helpful so you have an idea of things you do and don't want to do. It's also an opportunity to talk about what you actually want so it's an enjoyable experience for everyone," says Jimanekia Eborn, a trauma specialist and host of the Trauma Queen podcast.
Start simple
"Don't get intimidated by photos of complicated ties or instructions that tangle up your brain. It's totally fine to keep it simple—after all, fun and steamy are the objectives," says Midori, a sexologist, educator and author of The Seductive Art of Japanese Bondage. Don't know where to start? "What's your favorite sex position? Start with that and use the ropes to tie the partner into that shape!"
Be safe
Once you've gotten enthusiastic consent and communicated about what you want, implement a safe word system. "Go for simple words you don't typically say during sex. Can't come up with some? Use the traffic light system. Green means all good, keep going; orange means low down; red means stop immediately," says Aliyah Moore, PhD, resident certified sex therapist at SexualAlpha.
You should also use the two-finger rule to ensure no one gets hurt. "It's incredibly important that you don't tie the ropes too tightly. You should leave room for two fingers between the bottom's skin and the rope. This is because movement and pressure can cause the knots to tighten, so this additional squirming space is essential," says Payne.
Have an escape plan
When playing with rope and bondage, it's incredibly important to have a backup safety plan. "Remember to have a pair of safety scissors nearby, should a knot get stuck or either partner wants to unwrap quickly," says Midori. If you're using handcuffs, make sure they have a quick-release lever and that you have the keys nearby.
Don't forget the aftercare
BDSM is fun, but it can also be a little jarring for beginners, and it doesn't end with an orgasm. "Giving your power away and surrendering to your partner can be amazing. At the same time, bondage can get pretty intense. Even if you're so into it while you're doing it, there can be weird feelings once it's done," says Moore. This is why it's so important to practice aftercare. "It's vital to create a nice and safe environment after bondage play is over. Care for your wrists and ankles if there are burns from restraints. Cuddle with your partner afterward and spend time being gentle with each other." This is a great practice to put into play after any kind of sex, bondage or no bondage.
Do research on what rope works best for your needs
Not all ropes are created equal. "If you're starting out, go for the soft and thicker cotton ropes. Cotton's easier to wash after the good messiness of kinky pleasure," says Midori. Hemp is also a good option. If you're a newbie, try bondage tape. "It's a great alternative, especially for those who weren't Scouts in their youth and don't have a particular affinity for knot tying," says Rachel Worthington, writer and researcher at Bedbible.com. "While it may look a lot like duct tape, it differs in that it only sticks to itself, not to skin or furniture. That means that in most cases, it can be used just like bondage rope but is easier to secure and remove with bondage scissors."
Once you've got all the above squared away, try one (or all) of these sex positions for rope bondage. Don't forget your safe word!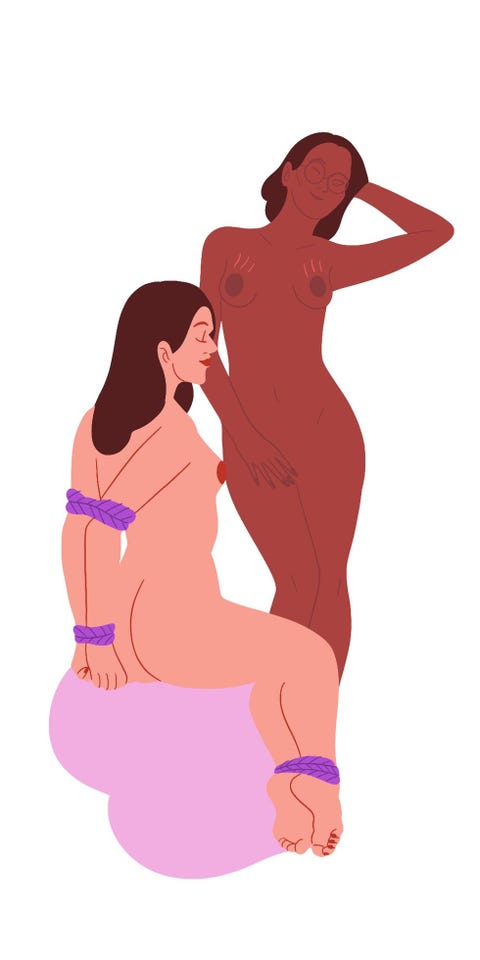 In this classic bondage position, the person who's tied up sits up straight with their knees bent and feet on the floor. Their elbows and knees are tied together, as are their ankles and wrists. "This position is great for power play as it allows for 'sexy vulnerability' and gives the one in charge access to all their partner's genitals. The dom can go down on their partner as they struggle against their bonds, or stand over them and receive from above," says Payne.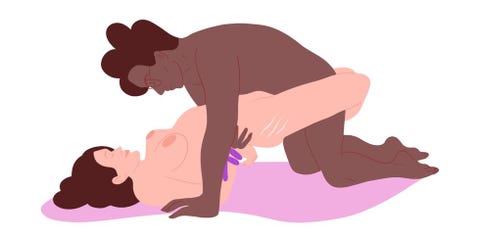 "If you're familiar with the Bridge pose in yoga, this sex position is kind of like that. If you're the receiver, lie down with your back to the mattress and lift your hips into the air. Then, have your partner do the honors of binding your wrists behind your back. Let them grab your butt while you wrap your legs around their waist as they enter you," says Moore.
3
The Get-Off to See the Wizard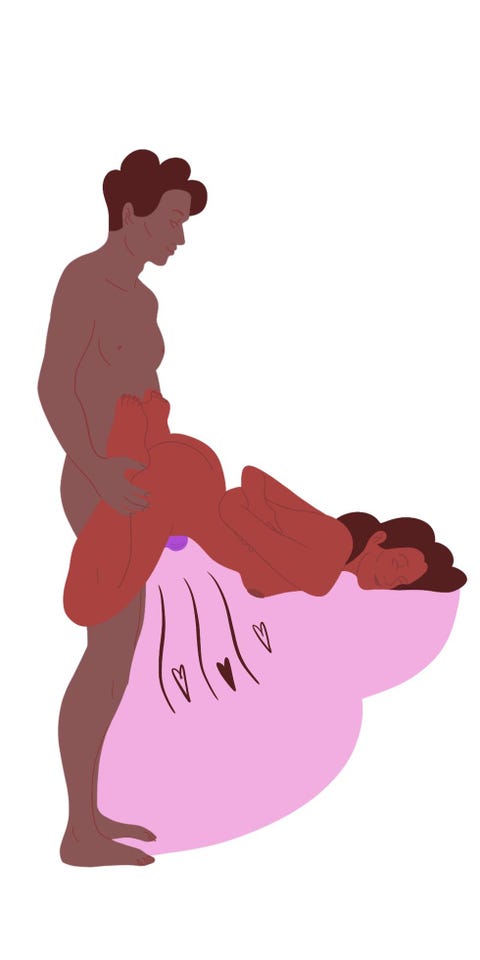 If you're the receiver, get in a facedown fetal position with your legs spread and your hips at the edge of the bed. Have your partner bind your wrists behind your back. They can stand to penetrate you from behind, reaching around to stroke your clit. "Want to take things up a notch? If you have a powerful vibrator like a Magic Wand, have your partner use it on your clit and your other erogenous zones for powerful orgasms," says Moore.
SHOP NOW Magic Wand Rechargeable, $159.95, AdamEve.com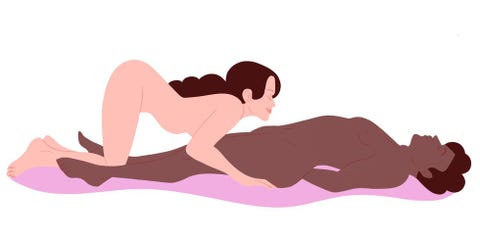 If one of you is really uncomfortable with being bound right away, try a test round with oral sex and no actual rope or cuffs. The person who is bravely giving it a go lies flat with their hands pressed under their butt so they're essentially binding themselves. If it gets too hardcore for them, they can release their hands whenever they want and all is well.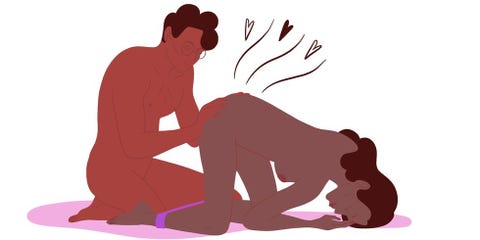 A spreader bar (or bondage tape and a broom handle) forces the receiver's ankles apart and gives easy access to their butt, while making them feel exposed and vulnerable (which is good here!). The receiver gets on all fours and the giver can torment them with a toy, their mouth, hands or penetration.
SHOP NOW Adam & Eve Scarlet Couture Spreader Bar, $40, AdamEve.com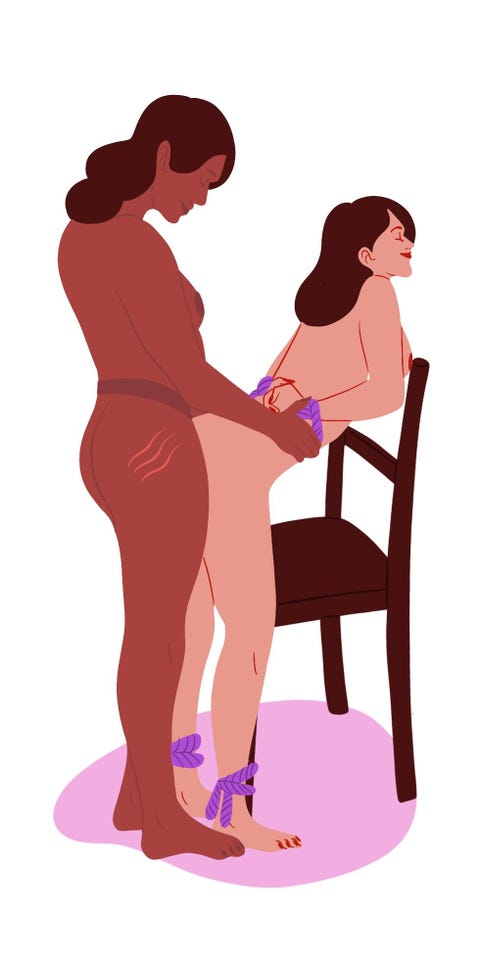 The receiver sits backwards in a hard armless chair placed in the corner for dramatic effect. Receiver leans forward so their chest is touching the back of the chair and their butt is hanging over the front edge. The receiver's ankles are bound to the front chair legs and their wrists tied behind their back. Good for butt stuff, general discomfort and any manner of role-playing.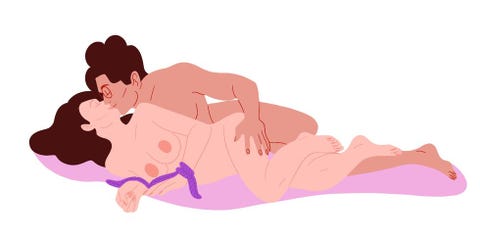 Even spooning can be kinked up with bondage. The little spoon's wrists and forearms are bound together in front of them. Big spoon can rock the little spoon's hips as they please—onto a strap-on, vibrator or penis. Spanking optional.
SHOP NOW Hemp Bondage Rope, $20, GoodVibes.com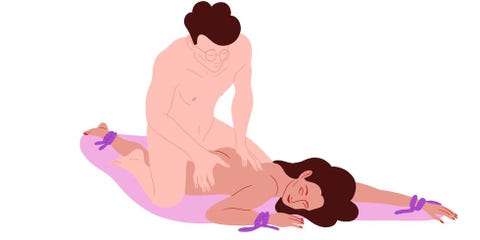 Find just the right spot between arousing uncertainty and "Help! Way too f*cking vulnerable," with your partner in a face down X position. Being face down may make the receiver feel less exposed and safer, but it's still tantalizing because they can't see what's going on. Slide your hands under them for a lubey hand job and if you/they want, use the other hand to play with their butt.
SHOP NOW Under the Bed Restraint System, $70, AdamEve.com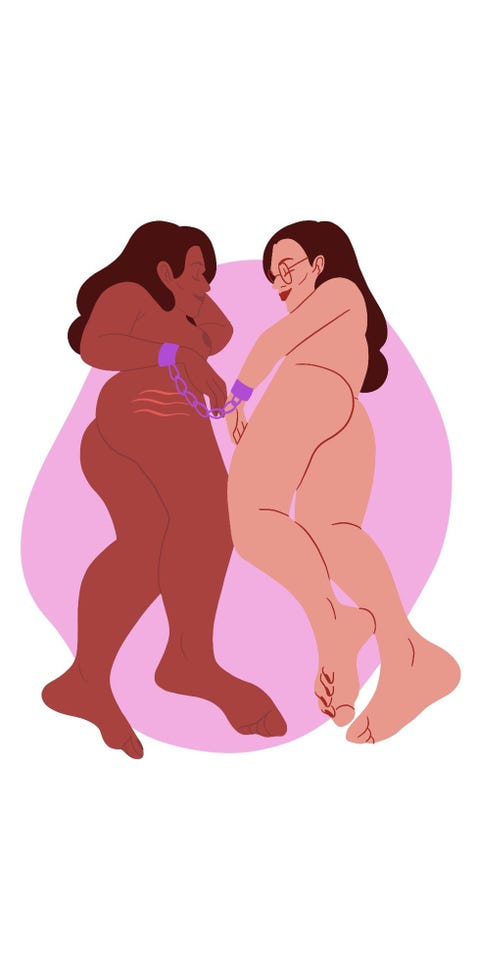 Bind your wrist to your partner's (handcuffs are better for this one, unless you want a three-legged race-type couples challenge where you're trying to tie yourselves up) and lead them astray. You're in charge of what happens next. Push their hand up over their head and ride them or roll them on their side and move their hand over your body as you please.
SHOP NOW Soft Leather Handcuffs, $30, Lovehoney.com
10
The Pass the Velvet Rope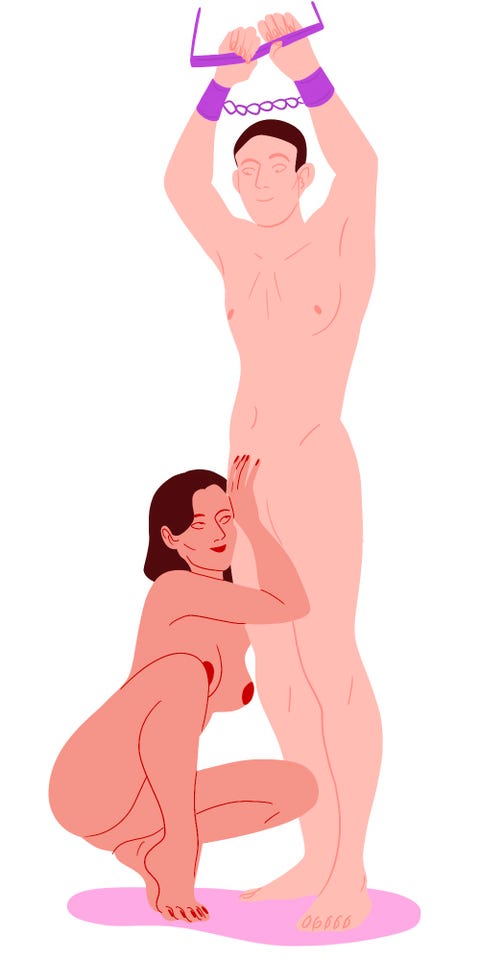 For comfort in the discomfort that is being tied up, try a standing position using restraints that fit over a door. (You can also bind their wrists to the door knob.) They can either be facing you to see what you have in store for them, or keep them on edge by facing them toward the door. Try using only your mouth to touch them to focus their attention on every sensation.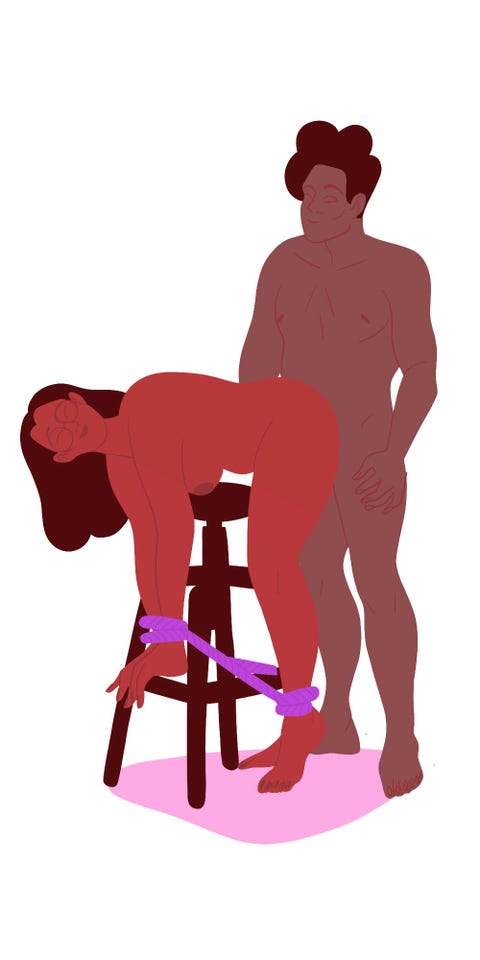 Bend your partner over a sturdy bar stool (or be the bend-ee), binding their ankles and wrists to the stool leg. You can flog them gently (or not so gently) or torture them otherwise with tongue, toy, or the promise of penetration if they beg hard enough.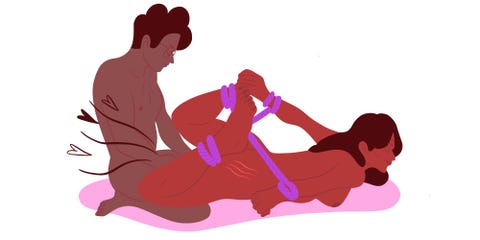 If you want to try the classic bondage position of hog-tying but aren't (yet) a master, go ahead and cheat a little with a restraint system that does the positioning for you. Your lover/victim lies on their stomach while you bind their ankles and arms behind their back. They'll still be pretty restricted in their movements, but the restraint makes it a little more comfortable and less hard-core. Reward their good behavior with a lube-y reach-around.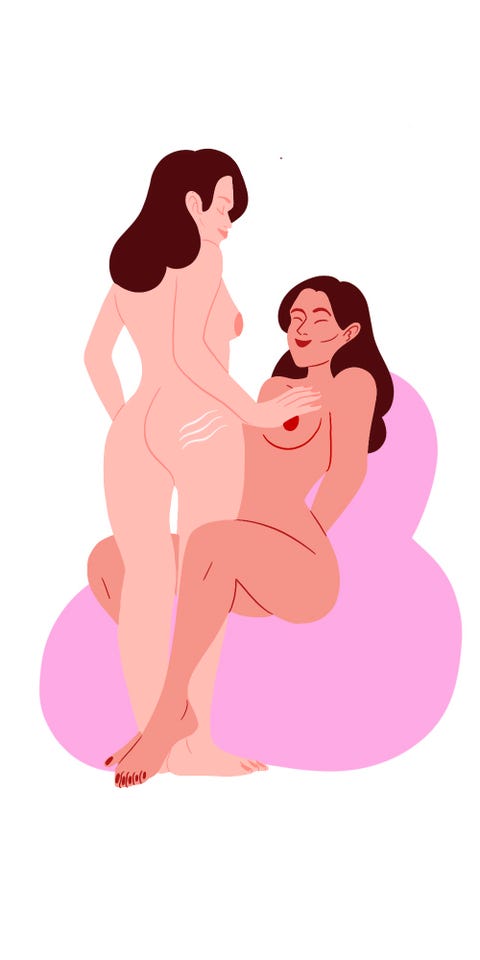 Sit 'em in a straight-back chair and tie each of their legs to the chair legs and their wrists behind them. Blindfold them so they'll be hyper-alert to whatever you chose to do with them. Some people like being teased with a feather or ice cube and your warm mouth. Others might want something rougher like a random slap or a whack on the thighs with a spatula. That part is for y'all to work out ahead of time with clear ground rules.
14
The Tie Me Up, Tie Me Down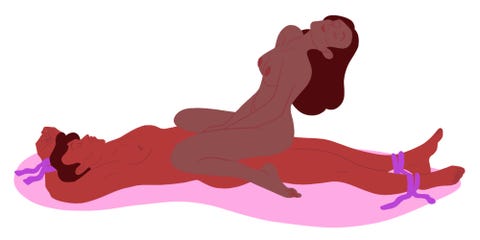 Start them off easy with a single silk tie (you can buy special bondage ties or just use a plain ol' men's tie) to tie their wrists together over their head. Lie them on their back and mount them, telling them they are absolutely not allowed to move (until you say so anyway).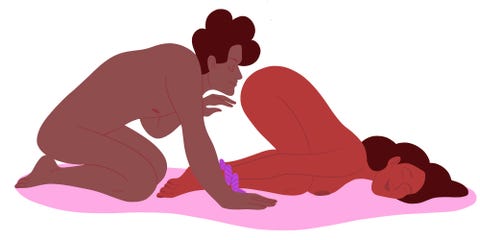 One partner kneels with their face to the floor, butt in the air, and their wrists tied to their ankles. Slide a finger into their bum (with permission!) and use the other hand to give them a lube-y hand job. Make them beg for it first, of course.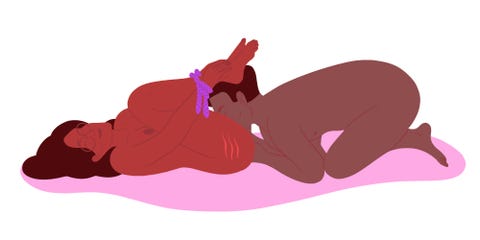 Never will someone be more at your mercy than when they are on their back and completely open to whatever is gonna go down. Have them (or hell, order them) to lie on their back and open their legs for you. Their arms go under their knees and hands on their outside ankles so you can bind their wrists to their ankles (use bondage tape if knots aren't your thing). Then, go to town giving oral or penetrating.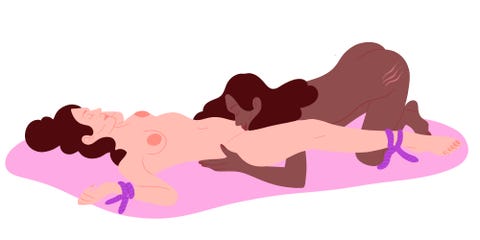 Have them lie on their back spread-eagle, attaching each limb to a corner of the bed. (Use handcuffs attached to the head- and footboards, bondage tape wrapped around the mattress corners or an under-the-bed restraint system.) Once helpless, torture them with some infuriatingly slow oral.
This content is created and maintained by a third party, and imported onto this page to help users provide their email addresses. You may be able to find more information about this and similar content at piano.io